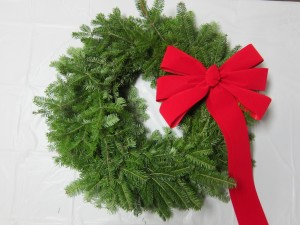 Christmas Tree and Wreath Fundraising Event
On the Saturday following Thanksgiving, we start selling fresh Maine Christmas trees & double-faced handmade wreaths with hand-tied bows. This is our biggest fundraiser of the year.
CHRISTMAS TREES
The Foundation sells Christmas Trees at the headquarters building in West Bridgewater, MA. The Christmas trees come from Maine and are hauled to the Foundation through the generosity of our Alumni and Friends. Tree sizes range from 4 to 6 feet, 6 to 8 feet, and 8 to 10 feet.
2022 Tree Prices   5-6 feet $50;    6-8 feet $65;     8-10 feet $90;     
WREATHS
The Foundation also sells seasonal wreaths at the headquarters building. The wreaths are double-faced and are hand made by one of our neighbors in Maine and are especially beautiful. Wreaths are measured by their inside diameter. The smaller ones are 12″, medium wreaths are 18″, and larger wreaths are 24″. We also have 36″ and 48″ wreaths that are available via special order. All wreaths come with a hand-tied bow in the color of your choice and a hanger. For your convenience, if you contact us with your order, we can have your wreath(s) ready for you to pick up.
2022 Wreath prices (with handmade bow):
12 inch $25;    18 inch $30;     24 inch TBD;
The sales of trees and wreaths are manned by the boys, parents, and other volunteers. We are open the Saturday after Thanksgiving and every day/evening from then until we sell out! All proceeds go to support our programs at the Foundation.